Sometimes it can be hard to plan days out with your friends – nobody has any suggestions, or that one person is always busy. And sometimes, all it takes is something a little different or new to re-vamp your group's social life.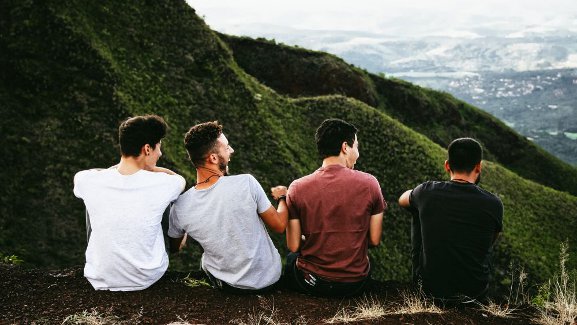 This weekend, why not try something new and exciting with your friends? Here are five fun activities to get you started. Whether you're looking for a physical challenge or some laughs, indoors or outdoors, there's something for everyone here.
So get out there and have some fun!
Join a Movie Club
There's nothing better than watching a good movie with friends. But why settle for just watching a movie when you can join a movie club and get the most out of your experience?
Joining a movie club is a great way to bond with friends over your shared love of movies. You can take turns choosing what movies to watch, vote on upcoming films, and even host your own private screenings.
Plus, you'll always have someone to talk to about your latest film obsessions. And who knows, you might even discover some new favourite movies along the way.
Go for a Hike
What better way to spend a day than by getting out into nature with good friends? Hiking is a great way to get some exercise, enjoy the fresh air, and bond with your pals. Plus, there's nothing quite like reaching the summit of a hike and taking in the stunning view.
Whether you're planning a challenging hike up a mountain or a leisurely stroll through the woods, going for a hike with friends is always an enjoyable experience. It even gives you the perfect excuse to get some travelling trips in. Round up your buddies and hit the trails!
Visit a New Restaurant or Bar
Trying out a new restaurant or bar with friends can be a great way to spend an evening. Not only will you get to sample some new cuisine or drinks, but you'll also get to experience the atmosphere of the place and catch up with your friends.
It's important to do a bit of research beforehand to make the most of your night out. Check out online reviews and see what other people are saying about the place. Once you've zeroed in on a few potential options, it's time to start making plans.
Call up your friends and pick a date that works for everyone. Then, just show up and enjoy yourselves! Trying new things is always more fun with good company by your side.
Try a New Sport
Trying a new sport is always a great way to spend time with friends. It's a chance to learn something new together and bond over a shared experience. And, of course, it's also an opportunity to get a little bit competitive.
If you're looking for some ideas, obvious choices like football, basketball, or golf are always great options.
However, airsofting is an increasingly popular choice of sport that offers a unique and adrenalin-pumping experience. It's fast-paced, exciting, and definitely not for the faint-hearted! Teamwork is essential in airsofting, as players work together to strategy and eliminate the opposing team. Plus, the airsoft guns and gear are incredibly realistic, and you can even build yourself a pretty wicked arsenal.
Plan a Weekend Getaway
Weekend getaways are the perfect opportunity to bond with friends, explore new places, and just have some fun. But planning a successful trip can be a challenge.
To make sure your next getaway is a success, here are a few tips to keep in mind. First, choose a destination that everyone will enjoy:
Consider everyone's interests and budget when making your decision. Second, book your accommodations in advance. This will help ensure you get the best rates and have a place to stay that meets everyone's needs. Third, make sure to schedule some time for relaxation. Even if you're spending the weekend exploring a new city, it's important to have some downtime to rest and recharge.
By following these simple tips, you can plan a weekend getaway that everyone will love.
Party Party Party!
What could be more fun than throwing a party with your friends? Whether you're celebrating a special occasion or just getting together for some good old-fashioned fun, a party is a perfect way to let your hair down and enjoy some quality time with your closest pals.
And of course, no party would be complete without some delicious food and refreshing drinks! So what are you waiting for? Get your party planning hat on and start working on that guest list – your friends are sure to have a blast!
Conclusion
There are many great ways to spend time with friends. Whether you're looking for something active or something more low-key, there's sure to be an activity that everyone will enjoy. The importance of spending time and bonding with your friends is huge – so get out there and make some memories!
For an added bit of fun, why not write these ideas down on a piece of paper, chuck them into a hat and see what you pick out! Whatever you do, make sure you have a great time.