Glowing and healthy skin is not just a matter of DNA; the daily care routine significantly impacts the skin. The best skin doctors recommend using high-quality products to maintain tenderness and a youthful appearance. Also, proper skin care helps in preventing several infections. You need to keep several things in mind before choosing the right product for you, such as skin type, complexion, sensitivity to environmental hazards etc.
Here we will discuss step-by-step to improve your skincare routine. It is important to note that the following points are suggested by the best skin doctors in top-rated hospitals.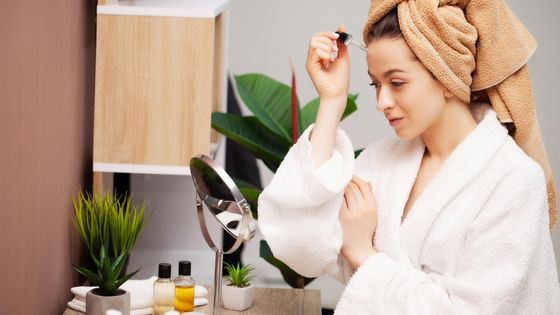 Morning Skin Care Routine
1. Cleansing
In the morning, it's best to start with a gentle cleanser. You don't want to strip your skin of its natural oils, so choose one that'll leave your skin feeling soft and smooth. Your cleanser can also be a great makeup remover — just make sure it removes eye makeup too! You can also use soft face wash for this purpose.
2. Toning
According to the best skin doctors, you should tone and balance your skin after cleansing. This step will help eliminate any dirt or dead cells and bring back some hydration to your skin. The toner you choose should have an alcohol-free formula (you don't want those drying out the skin). A good option is the Murad Toning Lotion because it's alcohol-free, non-irritating, and works as both a toner and astringent. Another option is Clinique Take The Day Off Cleansing Balm, which gently exfoliates for clean, smooth daily results.
3. Serum
After cleansing, apply a serum to your face and neck. Serums are rich in active ingredients that benefit the skin and help it retain moisture. Some serums contain antioxidants and anti-aging ingredients, reducing signs of aging like fine lines, wrinkles, and pigmentation.
4. Moisturizing
Moisturize your face and neck with a hydrating moisturizer. This step is crucial if you have dry skin, as it will help your skin retain its natural moisture level. You can use an oil-based moisturizer for dry skin or a water-based one if your skin is oily.
5. Sunscreen
Apply sunscreen on your face and neck every day to protect yourself from the harmful effects of the sun's rays. Make sure it contains an SPF of at least 15, as this will help shield your skin from UV rays that cause aging and other diseases.
Night Skin Care Routine
1. Cleansing
Cleansing is the most crucial routine step. You will want to use a cleanser with some exfoliating properties. If you don't use an exfoliating cleanser, you will need to do your own scrubbing with a washcloth or something similar. You can also use an AHA or BHA exfoliant product if you prefer those over scrubs. Either way, ensure you are rinsing well after washing off the cleanser. This will take off dust particles and excessive oil that sets on your face.
2. Toning
Apply toner on your skin after washing to balance out the pH level of your skin and reduce the appearance of redness and blemishes. Look for a toner that is formulated for sensitive skin, like those by Philosophy or SkinCeuticals, which contain salicylic acid to help unclog pores and exfoliate dead skin cells to reveal smoother, more radiant-looking skin!
3. Exfoliating
The best skin doctors suggest using an exfoliator to remove dead skin cells, dirt and debris that may be on your skin. You can try using a physical exfoliator like a sugar scrub or even apple cider vinegar mixed with water, but remember to always use sunscreen after applying the product. The acids in the vinegar can cause irritation if used on sensitive skin!
4. Eye Cream
If you have dark circles under your eyes, try applying an eye cream that contains caffeine like Colorescience's Under Eye Brightener, which brightens as it absorbs into the eye area to help alleviate dark circles and puffiness around the eye region!
5. Acne Treatment
Acne is one of the most common skin conditions that people deal with on their faces. Using acne treatments at night is beneficial because they will not disrupt your sleep cycle, which can cause breakouts. Acne treatments can be applied directly to the skin or absorbed through the pores by using a cream or gel. Some acne treatments contain benzoyl peroxide, which dries out oil production and prevents clogged pores from forming.
6. Anti-Aging Cream
As per the top skin doctors, if you are above 30, including anti-aging cream in your skincare routine becomes imperative. Anti-aging creams work by reducing the appearance of wrinkles by plumping up collagen and elastin production in the skin tissue while also increasing cell turnover rates to keep the skin looking young and healthy.
By following the above steps recommended by the best skin doctors in Mohali and other areas, you can look younger for longer and flaunt glowing skin.